Promotion of intercultural exchange and reconciliation with Original Nations
In the last 200 years of industrialization, an unbelievable destruction and burdening of the environment and the climate has taken place in almost all countries, of which we must all become aware in order to also be able to recognize the effects in a holistic sense and to be able to remedy their causes. The overexploitation of the earth for the profit of large companies has gotten out of control. For this purpose, whole peoples on different continents have been killed or driven off their land or colonized in a brutal way – from the one-sided western world view.
We human beings are a community in today's global civilization, in which each individual human being, as a representative of ethnic groups, can do what he or she is able to do to contribute to global reconciliation and unity.
In respectful cooperation for the good, a mutual understanding of cause and effect as well as of the realizations of mistakes and the corresponding reparation emerges.
This is necessary, for example, to convince indigenous peoples of the seriousness of reconciliation and compensation. There are still so many people's wounds regarding the atrocities of our Western ancestors with their campaigns of conquest, the colonial overexploitation of raw material extraction or the destruction of sacred sites of indigenous peoples, especially in Africa and the Americas.
The group of Wisdom Keepers  
In this sense, our trips with the group of Wisdom Keepers of Original Nations serve the places and likewise the reconciliation of all people, cultures and religions.
We want to achieve through these activation journeys that through the different participants from all continents also their ancestral lineage and over generations preserved culture, religion and knowledge flow in. Through their representation and experience in the different fields, they will jointly use all methods to restore, reactivate and harmonize energetic flows in the ley lineage grid of Mother Earth.
The ley line places and the Original Nations
These ley places also serve as a global showcase and starting point for our journeys with a group of Wisdom Keepers representing all races and Original Nations of all continents. With them we will visit the 8 accessible places for intercultural exchange and reconciliation between 2020 and 2022.
0 – INZALO YA LANGA (South Africa)
1 – GIZA (Egypt)
2 – ACOR (Sao Miguel, Azores, Portugal)
3 – SHASTA (USA)
4 – NAUTILIUS (HAWAII, below sea level)
5 – XIAN (China)
6 – ULURU  (Australia)
7 – NINOGI (below sea level)
8 – WORAMO (below sea level)
9 – VUGE (below sea level)
10 – MEGIMI (French Polynesia)
11 – NEW ZEALAND for the SOUTH POLE
12 – GREENLAND for the NORTH POLE
If You klick on the name it will lead you to the Site and the Elders of the Original Nations.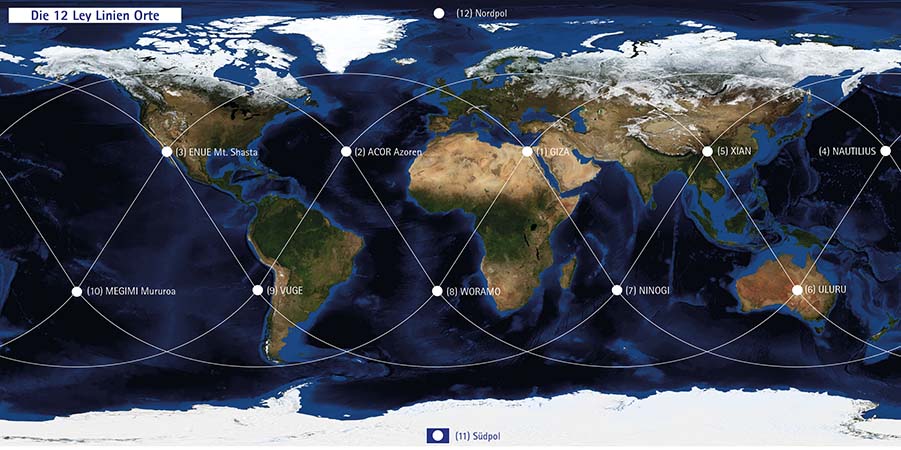 "You and I – we are one.
I can't hurt you without hurting myself."
Mahatma Gandhi