Promotion association
"Let the animals live"
Lasst die Tiere leben e. V was founded in October 2017 and recognized as a non-profit association. The association operates 2 Lebenshöfe in the northern outskirts of Berlin. On the site of a former LPG, is the large farm. Here, for decades, animals were exploited to an immeasurable extent. That is where our motto comes from. We want to transform this place and offer so-called farm animals a largely species-appropriate life in which they are treated with love and respect.
Website Lasst die Tiere leben e. V
Team
Katharina and Matty take care of the majority of the animals on the farm in Hermersdorf. With the team, they lovingly take care of all the animals. On the other small farm in Hasenholz these tasks are fulfilled by Dshamilja with devotion. Here you can see her with the blind lamb Galileo. You can read his story, that of the moon sheep and the sky calf, on Instagram.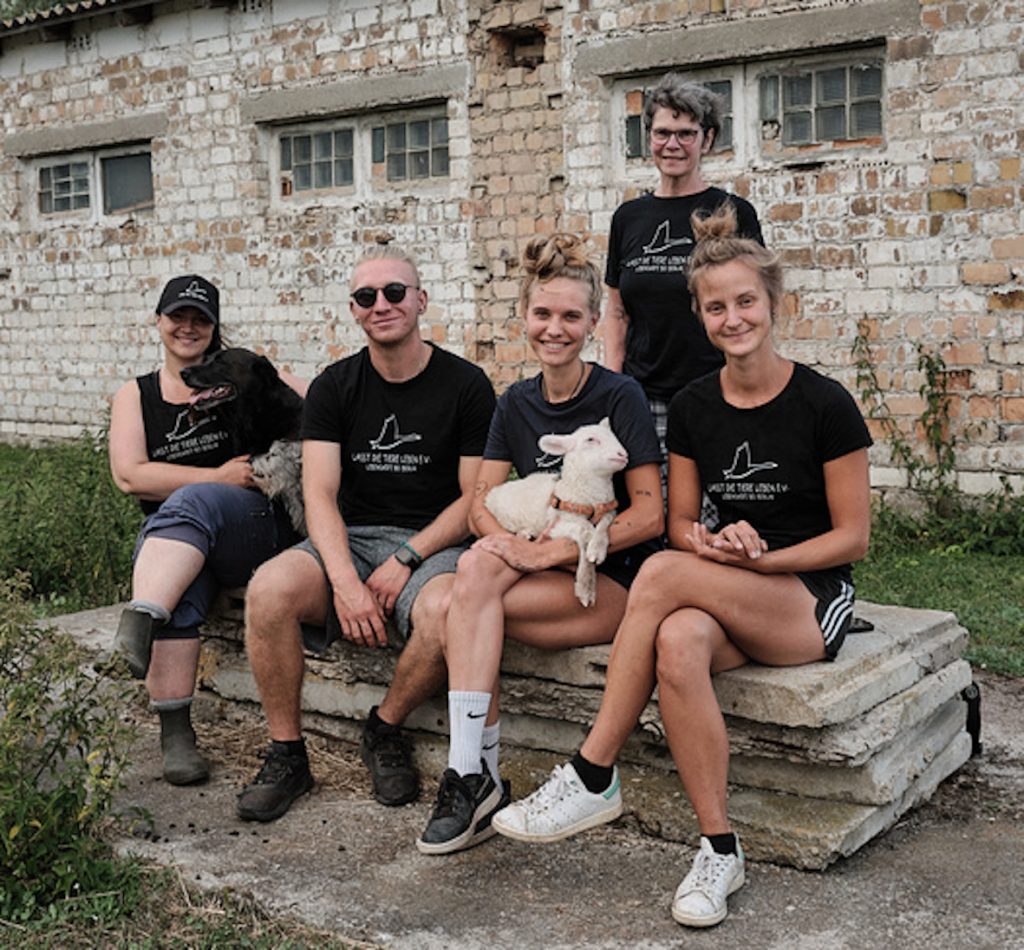 Godparenthoods
Sponsorships are very important for the work of the association, because they make it possible to care for all the animals. They give the sponsors the opportunity to form a close bond with "their animal". Katharina is in contact with all sponsors via an Instagram sponsor group and informs them promptly about all events. This "family of animal sponsors" is very important to the association. Please support it with sponsorships, because by far not all of our animals have a sponsorship yet. Of course they will be taken care of, because for the team this is also the lived sense of a community. One for all, all for one!
The TAO family welcomes 8 animals…
Séanna
One morning there was a phone call and a voice said to Catherine: THERE IS A LAMB IN THE STABLE. It hit her like a thunderbolt. In the barn and on the farm area there were only the old and sick sheep in spring and summer. All the males had been castrated and there were no new additions. That can't be, she thought to herself, but then they tracked down the mama. It was their Gertrud, who had almost died of weakness in January 2019, who nursed her up and gave her courage to live and joy again. Gertrud, who always had the greatest hairstyle of all – had given birth to a lamb. It was then quickly discovered that one buck had not been castrated properly. They then had him castrated again at the clinic. Gertrud however, became such a great mom and Séanna the "sunshine of the club".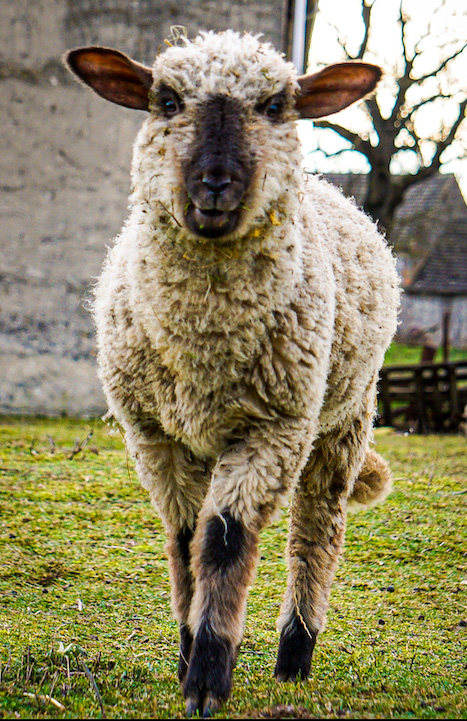 Lucy and Lana
Matty was supposed to pick up two 3 week old calves at a "dairy farm". They had been placed and he was only supposed to provide transportation. However, while researching the new home, he quickly realized that this was not a good place. They had already been scheduled to be taken away to the calf collection center, and with it, their certain death. They are twins and were too weak to be exploited for milk production. Matty picked them up, but the sight of the other calves in the igloos was so cruel to him and the attendants that they felt sick. The two animals wanted to live, got well and after a few months they grew again and overcame all health problems. The two are now 3 years old and are very attached to each other.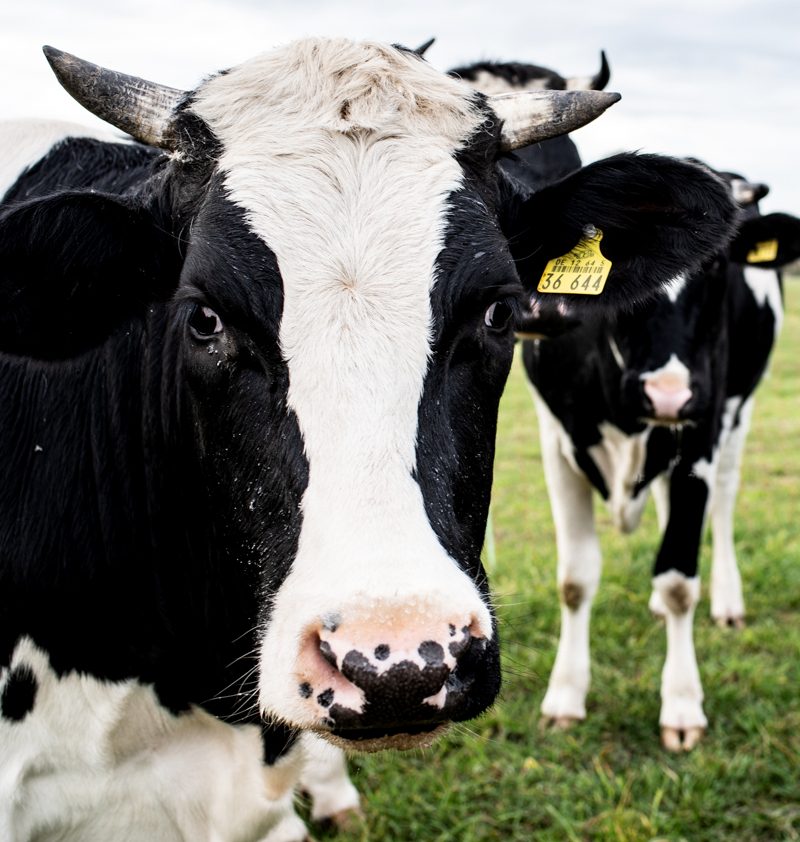 Aglaja and Kerstin
Aglaja and Kerstin were supposed to give birth to lambs, but they did not become pregnant. At the clinic, Flo was diagnosed with a deformity in his genital area and was unable to procreate. The plan for them was to conceive and give birth to lambs that would have been taken away and slaughtered at a young age. Male lambs have almost no chance at all, female lambs live longer. They are mercilessly exploited as animal mothers. The team says the three were so happy to see each other again and how moving such moments are for them.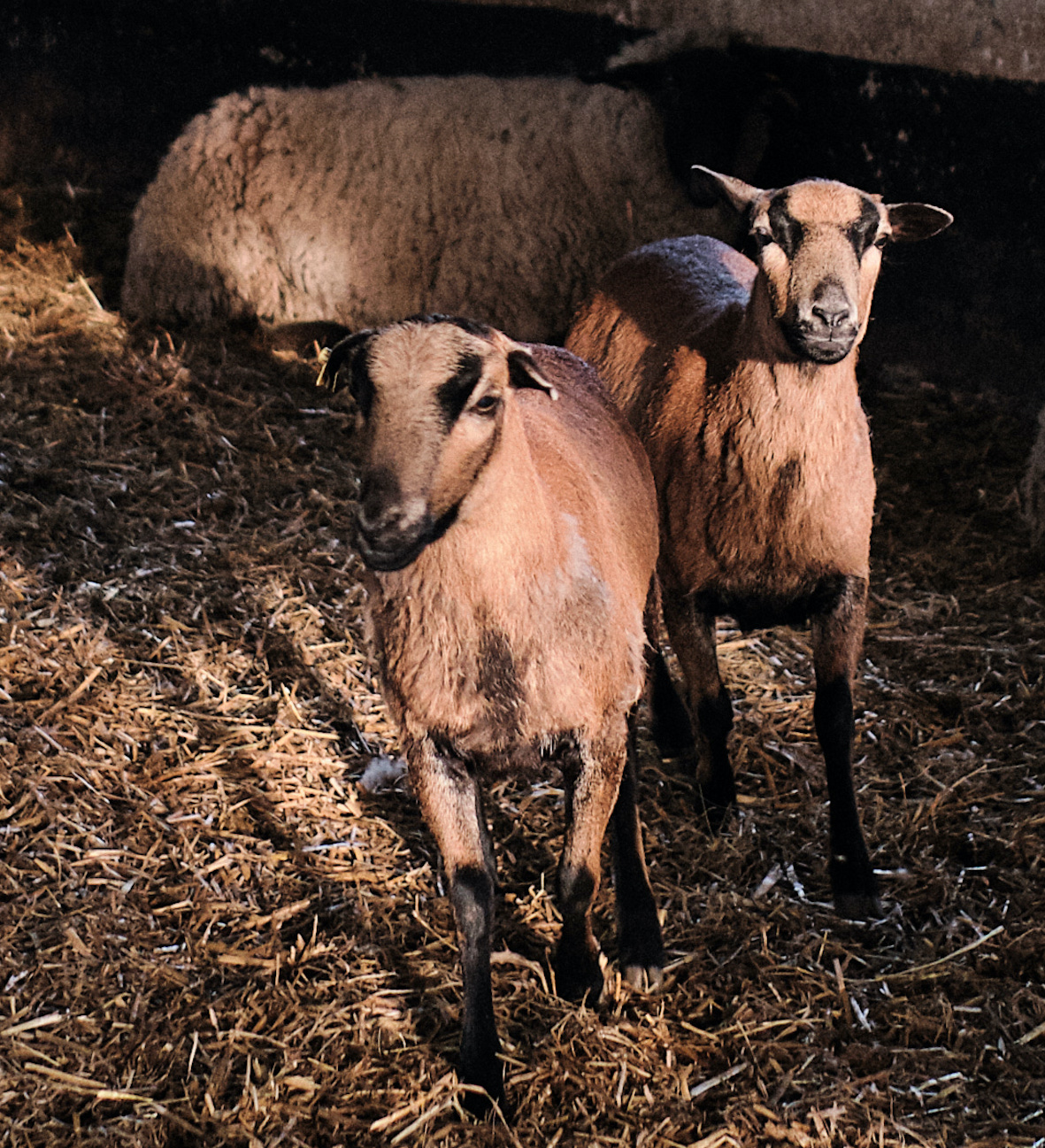 Sir William Wallace
He got his name because he survived an incredible surgery. The team had sorted him out of a flock in the spring of 2019 with a huge abscess on his face. Then at the clinic, the doctors saw that this abscess had already eaten a huge hole all the way into his oral cavity. They operated for 4 hours and he recovered. However, he needs to be watched constantly so they can see in case there are problems with the abscess again, since they couldn't pinpoint the cause.
Friendship and loyalty – Wooly and Sir William Wallace
Both born in 2018 and male = A death sentence, enforceable after fattening, long agonizing transport to the slaughterhouse, or without anesthesia neck cutting during slaughter. Both of them could be brought to safety on the life farm. However, their health was affected by the fattening, so both were since last year in the "Schafie Care Group" on the farm. For many weeks they were already together in the treatment paddock and became close friends. Friendship still counts for something with sheep, because they are honest and unbiased. Then Wooly got an eye infection and was in the "eye group" so as not to infect others. It was so moving because Sir William never moved from the fence. He always stayed close, even though he could go out into the big meadow. He is always there, a friend you can count on. Dzhamiliya, on behalf of the team, says: "We don't want a life without sheep anymore, we learn so much from them".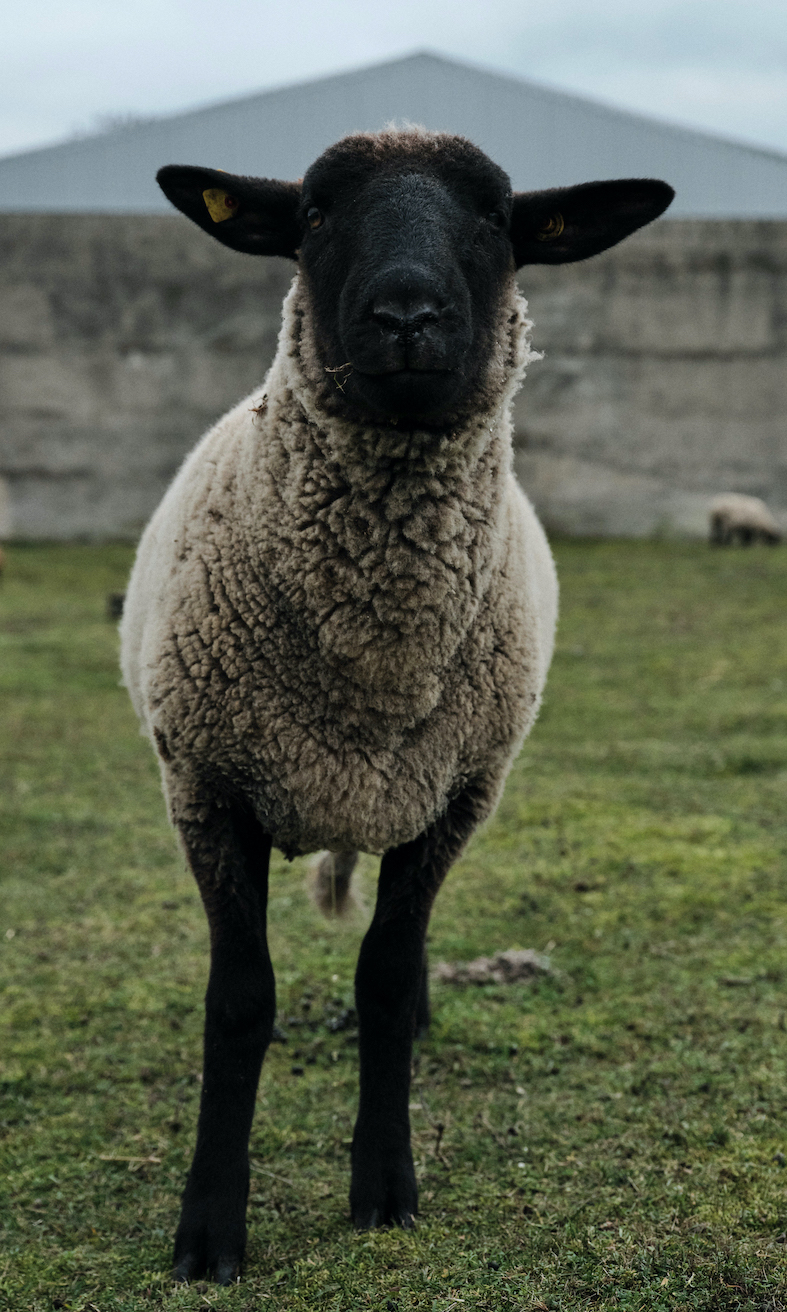 Dalai
He has probably experienced bad things, tells Katharina. Where they took him out it was terrible and the others they had to leave behind don't leave their memories because he screamed. That went through and through them. Then a dog also jumped into the small enclosure and injured Dalai and the pregnant sow that had to stay there. It was like a nightmare. Dalai had a lot of fear and mistrust, certainly justified towards people. It took him a long time, pacing up and down in his enclosure for weeks. When the team thought he was starting to arrive, he started moaning while eating. He took long pauses to eat and was obviously in pain, even falling over while eating and passing out briefly. The vet then diagnosed him with a stomach ulcer. He has been on medication for 2 months and is now slowly getting better. Katharina says, "Pigs are probably more sensitive than us humans, otherwise we'd all be full of stomach ulcers with what we do to them." In the meantime, Dalai is enjoying life again, he plays with his friends, he grunts a lot and is exuberant. The name Dalai comes from Mongolian and means ocean. He is said to be an ocean that can simply be as it is at the Freudenhof, with its calm waters, its gentle waves in the wind or with billows and whitecaps on it. The team likes to just look at it calmly and stand there and be happy that it is happy.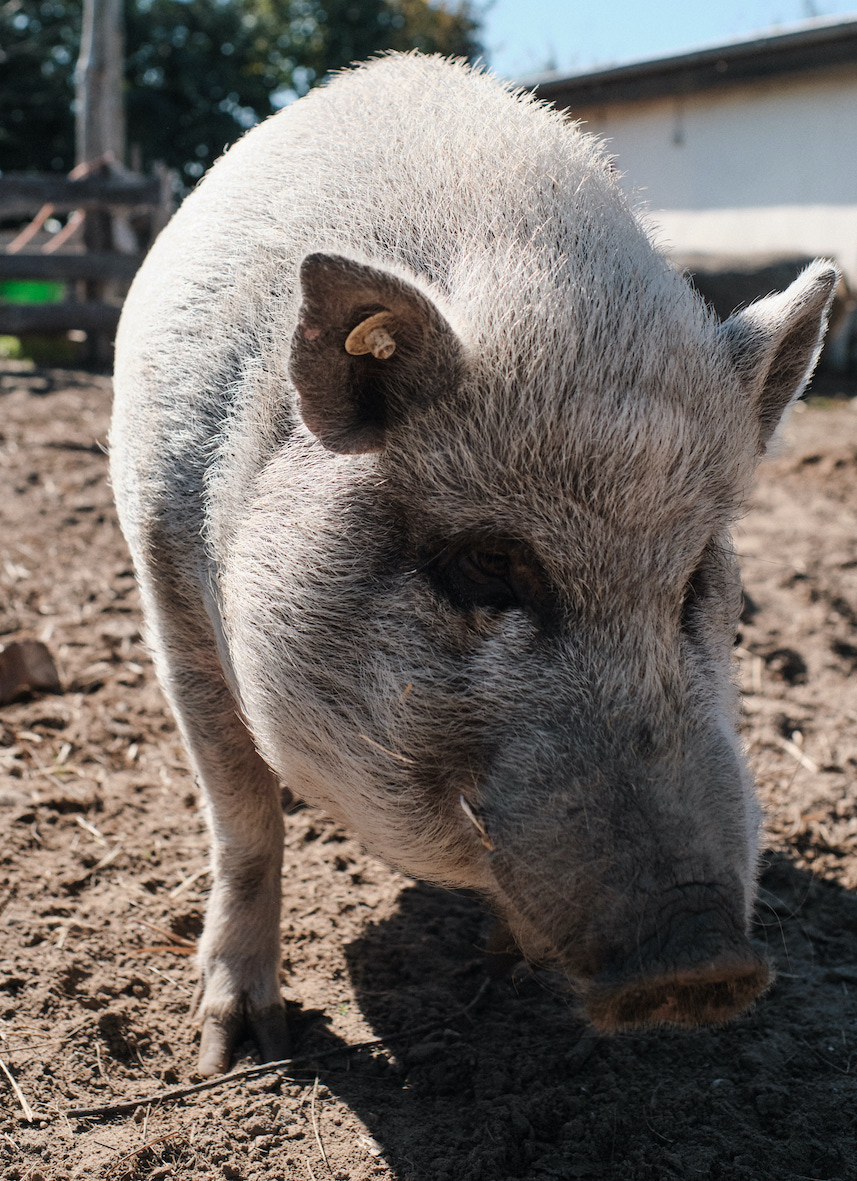 © Lasst die Tiere leben e.V.
"With us currently live 292 sheep, 16 cattle and 6 calves, 20 pigs, 5 ponies, geese, ducks, chickens. You will never have to be afraid again. We take care of about 80 free-roaming cats, organize castration campaigns, look after feeding stations and medical care for sick animals."
Lasst die Tiere leben e.V.