Veganstart by PETA
As the first project of a cooperation with PETA Germany e.V., an animal protection organization that campaigns for animal rights, the TAO Foundation has decided to support their Veganstart project. This will involve large-scale posters financed by the TAO Foundation being displayed at a total of 29 locations across the capital from January 2022 onwards, with the potential to reach millions of people. The TAO Foundation sees this as an excellent opportunity to kick off the new year by supporting many people on their way to a more sustainable, future-proof lifestyle that also benefits animals and the environment, in line with the foundation's purpose.
PETA has been providing information on animal welfare and nutrition since 2018.
The TAO Foundation supports the poster campaign VEGANSTART by PETA.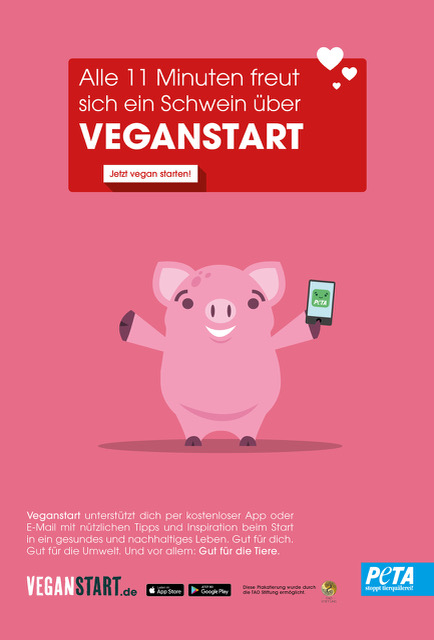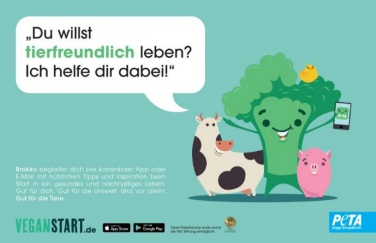 Ostbahn/Straße der Pariser Kommune 10/Netto
Schillingbrücke mi. Ri. Friedrichshain
Engeldamm/Köpenicker Straße
Frankfurter Allee 214 – 216 (B 1/B 5)/Hst Buchberger Straße
Karl-Heinrich-Ulrichs-Straße/KurfürstenStraße 131
Karl-Marx-Straße 54
Kniprodestraße 26 geg. Anton-Saefkow-Straße CS
Königstraße/Kronprinzessinnenweg 260
Königstraße, Ufg., Ri. Potsdam Einfahrt
Oranienstrasse 1/Manteuffelstraße 43
Prinzenstraße 35-38/1.Sto.
S-Bf Friedrichstraße, Regio-Bstg.,Gleis 4, 2.Sto.,West
S-Bf Wannsee, Bstg. B, Gleis 4
S-Bf Wannsee, Fernbstg, Gl. 6,Sicht Autoverladung
Tempelhofer Damm 153
Bethaniendamm/Schillingbrücke/We.re.
Boxhagener Straße 47
Danziger Str. 243/Landsberger Allee/We.li.
Dossestr./Gürtelstr.
Hbf, Ebene+2, S-Bstg. Gl. 15
Invalidenstr. 134/Gartenstr./We.li.
Köpenicker Str. 79/Brückenstr.
Landsberger Allee geg. Vulkanstr.
Leipziger Str. 120 Nh. Wilhelmstr./We.li.
Lichtenberger Str. 17/Singerstr.
Otto-Braun-Str. 77 Rtg. Alexanderplatz
S-Bf, Potsdamer Pl., Bf Ausg./Stresemannstr. Bf
Storkower Str. Rtg. Kniprodestr.
Stralauer Allee 24/Rochowstr./We.li.